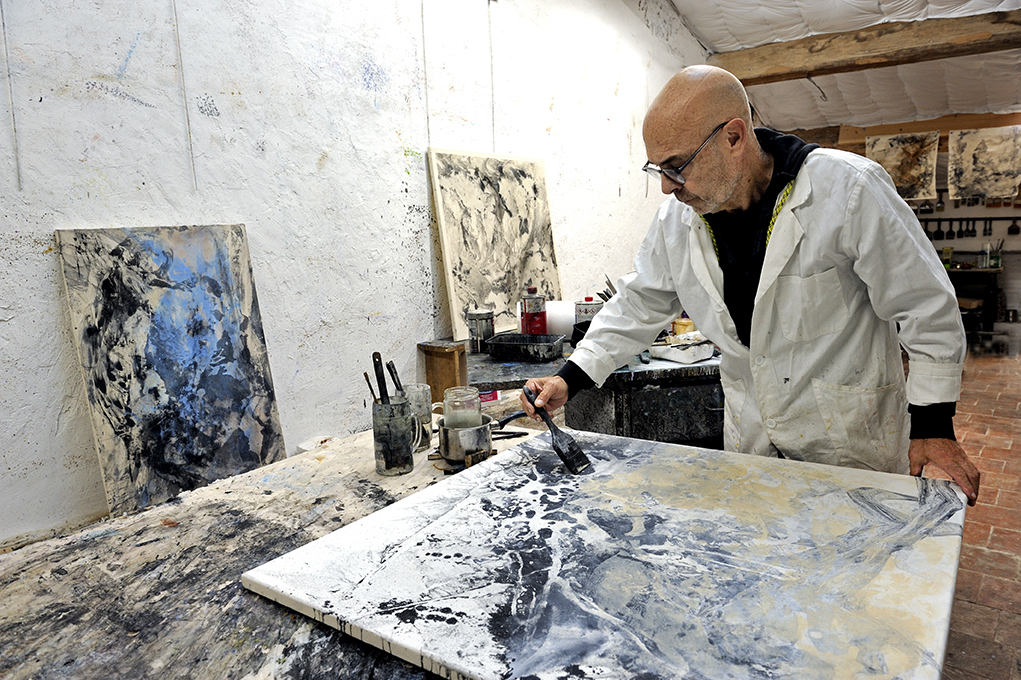 Before starting a canvas, I try to connect to my inner self (my soul). It is from this state that my painting takes on all its emotional power. When I paint, the aim is to escape, to forget the concrete world to go to the intimate, personal world. What I call letting go. Letting go for the artist is the state in which he finds himself when he acts on the canvas, the state of creation. For the visitor, it is a disconnection with what surrounds him to access his own intimacy since everyone has his own experience. My painting is a vector of everyone's intimacy, a trigger for emotions and sensations that are often ignored. Revealing my work, during exhibitions, is to make everyone discover emotions often buried under a layer of prejudice. It is to offer each being access to his soul. Realize your true personality. The participation in two exhibitions in the European cultural centers Sete Sóis Sete Luas (Pontedera in Italy and Ponte de Sor in Portugal), allowed me to take up a challenge which affected both the organizational nature of the exhibition of my works , as well as relational character, having the opportunity to lead creativity workshops in the places that hosted my work.
These workshops allowed me to make students aware that it was not such and such a pictorial technique that was essential but rather the state of creation in which one finds oneself, from the first stroke of the brush placed on the paper or the white canvas. This state that connects us directly to our soul, to our inner resonance. With the help of India ink and walnut husk, I was able to demonstrate it. Not having a rich enough vocabulary and being sensitive to the vibrations of color, shapes and signs, my choice is naturally oriented towards painting. This allowed me to discover what was in the making deep within me and to externalize it. The same goes for anyone. The main thing is to find the tool that allows you to express yourself in any field (writing, music, cooking, etc.) -Everything is art, when it is practiced with passion. The important thing is those in whom we believe, it is the convictions that we defend, despite passing fads. Accept the path on which our sensitivity leads us. Painting in order to discover oneself and assume oneself with one's differences without worrying about fashions. Exist. I am modestly a ferryman of light. This same light generating a sensitivity that lives in each of us that we listen to too little and that we ignore very often. When reflecting on the progress of my research, I found myself having thoughts similar to those that prehistoric men painting in caves might have had. They with the tools and pigments at their disposal, me with modern painting. Human sensibility connected us. My painting is an invitation to leave the intelligible world by the side of the road to let yourself be carried towards a sensitive world. No question here of losing by pompous and meaningless speeches those who will go to my work

It is emotion and not reflection.